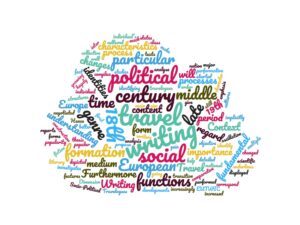 European Travel Writing in Context. The Socio-Political Dimension of Travelogues 1760-1850 (EUTWIC) investigates the thesis that travel writing is a fundamental medium in the process of the major political and social changes in Europe from the late 18th to the middle of the 19th century. In particular, the processes of the formation of collective national identities and cultures as well as the process of the formation of the middle class with its emphasis on the individual's identity are implicitly depicted, performed and negotiated in travel writing of the period.
The growing popularity of travel writing at the time underlines its increased social and political importance. Furthermore, the socio-political functions of the genre are displayed in its changed form and content: from the late 18th century, travel writing increasingly changes from scientific reports to more entertaining literary forms. What is more, the particular features of the genre with regard to form and content (such as the oscillation between fact and fiction, inter- and meta-textuality and multilingualism) correspond to its multiple functions.
It is my main objective to analyse the performative character of travel writing with regard to its social and political importance during the transition period from the late 18th to the middle of the 19th century. In order to do so and for the first time in travel writing studies, I propose a comparative analysis of travelogues by European writers between 1760 and 1850. I aim at identifying the particular structures and characteristics of the texts that make them a fundamental medium of the social, cultural and political developments at the time. Hence, European Travel Writing in Context will give a much more detailed understanding of the complex functions and characteristics of the hugely popular genre of travel writing. Furthermore, it will help us to gain a better understanding of the processes of the formation of the nation states in Europe that started in the 18th century and are still going on and the construction of individual identities.
For information on current events click here.